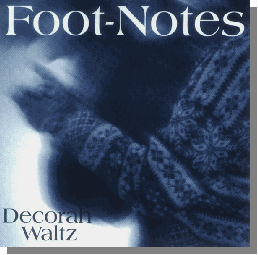 Music by Jon Rotto.
Lyrics by Christine Kallman.
Performed by Foot-Notes, Scandinavian-American old-time dance band. Vocals by Jon Rotto.
Some of the most joyful moments of my life have been spent dancing to the music of Foot-Notes, with my dear friends Beth and Jon Rotto on the fiddle and guitar respectively and Bill Musser on upright bass. They perform regularly in an old schoolhouse in Highlandville, Iowa where people of all ages  sail around the room to the old-fashioned waltzes, polkas, two-steps and schottisches that the group is famous for. Their talent and commitment to folk traditions have taken them to folk festivals and prestigious stages, including the Kennedy Center, where they were invited to perform in 2008. Read more about Foot-Notes here.
In 1996 Jon called and sang a tune he had written into our answering machine and asked if I would like to come up with some lyrics. I loved the song and said I'd give it a try. Here are the notes from the CD liner: "Jon and Christine finished this tune just in time for us to record it on the day they both turned 40. Jon dedicates the tune to his parents, John and Lina, whom he remembers doing funny dances around the living room." Jon is singing on this recording.
I knew that when the springtime began
I'd find you downtown dancing again.
Forgive me Lou. I'm crazy for you after all.
Bending, swaying, it's where we belong,
Drunk in jasmine perfume.
All night playing song after song,
There's that old familiar tune.
I knew that when the springtime began
There'd be you.
The fiddle rises up to the moon
With the mandolin at her side.
And I know as long as they play this tune
That you are surely mine.
I knew that when the springtime began
We would be downtown dancing again.
I love you Lou. I'm crazy for you after all.