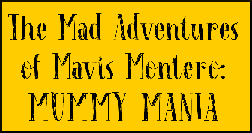 The place is Egypt. The year, 1948. Join intrepid pilot and filmmaker Mavis Montero and her crew as they descend into the Tomb of King Wut — what?! An ancient curse, a case of mistaken mummy identity, a support group for Egyptian gods, a bit of romance, and much more await you deep in the catacombs, where side-splitting humor lurks around every bend.
The first in a series of radio plays, this script is available through radiodramas.net.
Length: 50 minutes
Cast: 9-12 (2F; 4M; 3-6 Flexible)
Genre: Adventure
Appropriate for middle school age and older.