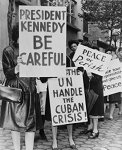 A Falling Out tells the story of a 1962 small town Iowa family that is split apart by differences over the military, war, and nuclear weapons during the Cuban Missile Crisis. Each character has a mouthpiece of sorts. The question is, how will they use it? Through Phil's outrageously stereotyped puppets and wacky TV interviews, Elma's chatty and "patriotic" newspaper column, and Rochelle's risky actions at a peace rally turned violent, they delve into World War II heroism, Nazi terror, and the horror of the Hiroshima bombing. The play magnifies questions of ethics, racism, loyalty, and patriotism as the Dooley family makes difficult choices during this kinetic time straddling the fierce patriotism of post-WWII America and the imminent cultural revolution. In August of 2015 we will mark the 70th anniversary of the Hiroshima and Nagasaki bombings. DOWNLOAD EXCERPT OF PLAY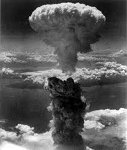 Characters: 7 plus 2 walk-ons.
Run-time: Approx. 2.25 hours.
A Falling Out was presented in a reading by the Workhouse Theatre in Minneapolis on Monday, April 13 at 7 p.m. See more here.
In March 2012 the play was presented in a semi-staged reading at the Northfield Arts Guild Theater as a capstone project for a grant in cooperation with the Southeastern Minnesota Arts Council, Inc., through funding from the Minnesota State Legislature.
For more information, contact Christine Kallman.