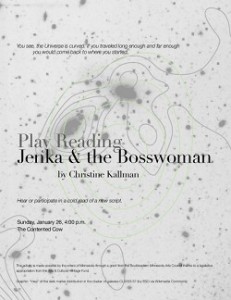 When all you've gotten from your mother is a bag of old bones, wouldn't you be willing to sell it? Phoebe, her astrophysicist mother Angela, and Angela's Latina caretaker, Celina, probe old family myths and new science as they wrestle with what to believe and how to love each other.
Weaving together scenes that employ heightened language and storytelling as well as traditional dialogue, Jenka & the Bosswoman is both a playful and very serious look at distance and intimacy in mother-daughter relationships, evoking many of the themes of Shakespeare's King Lear, including abandonment, suffering, sight vs. blindness, and the nature of belief.
Jenka & the Bosswoman is a play in development. Seven characters. Approx. 80 minutes. DOWNLOAD EXCERPT OF PLAY.
The play received a reading in January 2014 in Northfield, Minnesota. The activity was made possible by the voters of Minnesota through a grant from the Southeastern Minnesota Arts Council thanks to a legislative appropriation from the Arts & Cultural Heritage Fund.
For more information, contact Christine Kallman.
Graphic: "map" of the dark matter distribution in the cluster of galaxies CL0053-37 (by ESO via Wikimedia Commons)