The time: 1880. The place: Lockwood's Opera House over the dry goods store in the little prairie town of Northfield, Minnesota. Share laughter and tears with the settlers and get a taste of entertainment in early opera houses. Includes some of Minnesota's earliest music, arranged by Minnesota composer Daniel Kallman. Large cast musical appropriate for middle school, high school, or community theater. Unison and 2-part voices, piano, opt. violin. Available in one-act or two-act versions. Duration: 60 or 90 minutes. https://www.facebook.com/pages/Workhouse-Theatre-Company/132498646789172
For script or score perusal, rental or royalty agreements, contact Christine Kallman.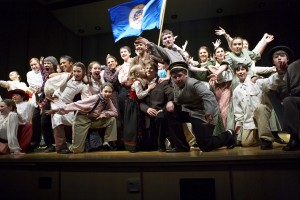 Playwright and Composer Notes:
Lockwood's Brightest Stars was premiered on April 11, 2008 in Northfield, Minnesota, by a cast of students from the Northfield Middle School under the direction of Rachel Haider. The project was funded in part by a Southeast Minnesota Arts Council Artist-in-the-Schools Grant and a Minnesota Sesquicentennial Grant from the State of Minnesota. The script was written to offer many interesting roles (rather than just a few lead roles), with large chorus numbers, solos, non-singing roles, and dance. The script was not simplified for the middle-schoolers so, while it is very accessible to this age level, it is very appropriate for adults or mixed ages.
A shorter, one-act version of the play is now available. (Duration: 60 minutes.)
Musical Selections:
Minnesota, Lily of the West (1868) by Will Hill (Rushford, MN).
Putting On the Style (a popular song of the 1880's).
March of the Amazons (by Giuseppe Operti) from "The Black Crook," performed in 1866 in New York with 100 ballerinas in skin-colored tights. This was the first time the same actors acted, sang and danced in the same play–what became known as a "musical."
Under Her Window, sung to the tune of Acker Waltz (1861) by George Siebert, Minnesota's first resident composer.
Bright Things Can Never Die by the Hutchinson Family Singers, famous throughout the country in the 19th century, and founders of the town of Hutchinson, Minnesota.
Fjariln vingad syns pa Haga (O'er the misty park of Haga) by Carl Michael Bellman, beloved composer in 19th century Sweden and Swedish America.
My Shining Light, adapted from L'Etoile du Nord (Star of the North) March (1863) written for piano by Frank Wood of St. Paul, who was a band director, piano teacher, and Minnesota's first song writer.
Fairy Dell Polka (1878) by Alfred. M. Shuey (Minnesota organist and composer).
Winona Schottische (1866) by George Washington Lovejoy (Rochester, MN).
Minesota [sic] March (1851) by George N. Allen of Cincinnati. First published sheet music with Minnesota (published "Minesota") in the title.
Playwright's Program Notes:
It is March 30, 1880 in the little prairie town of Northfield, Minnesota, only 25 years since its founding. Division Street is awash in mud as your carriage pulls up in front of Lockwood Dry Goods Store. It's been a long winter, the wheat prices are falling, and some loved ones have been lost to diphtheria. But tonight you will find happiness and a great deal of camaraderie at Lockwood's Opera House, an unassuming room above the dry goods store which since 1872 has been a center for civic engagement, social interaction and artistic expression. Here you have seen countless performances by traveling troupes from the east coast and Europe (including the midget General Tom Thumb), lecturers such as noted geologist William Denton, musical performers from afar and from right here in town, and community events to raise money for charities. You are especially excited because Lockwood has recently renovated the opera house to improve seating and ventilation. The first use of the new space will be tonight's performance of "All That Glitters Is Not Gold" written by British playwrights Thomas and J. M. Morton, and performed by the Northfield Amateur Dramatic Club.
As I did research for this play, poring over old newspaper articles, journals, diaries, music scores and programs, indistinct ghosts from the past began to take on vivid detail. I found Ephraim Lockwood (who owned the building now occupied by Present Perfect, Swag, and the HideAway), the Old Settlers (probably a bit more dignified than they appear in this production), the Northfield Amateur Dramatic Club, Women's Christian Temperance Union, the Prohibition Club, and St. Olaf music teacher May Martin. I found a city (population 2,299) buzzing with activity: civic discussions and debates, historical groups, theatrical presentations, lectures, musical concerts and recitals, book readings, charitable productions. Just like the Northfield of today! It is no surprise that our community was then and is now a center for education and the arts, as these were central values of John and Ann North and the other founders. There are many things I don't know about Ephraim Lockwood and his fellow townspeople. I have taken great liberties with situations and characters in the creation of this play. But I hope my fictionalized version of the events of March 1880 resurrects the spirit of community and concern for the commonweal that I found everywhere in my research. Tonight you will hear music with some of the earliest connections to the state of Minnesota, adapted and arranged by Northfield composer, Daniel Kallman. These pieces give testimony to the lives of the settlers, and it's appropriate that we hear and enjoy them in this the 150th year of the State of Minnesota.
The talented cast of Lockwood's Brightest Stars have been a joy, and I would like to thank them for all of their efforts. I would also like to thank Chris Ganza, Jana Schomburg, Neil Rowley, and Dan Kallman for their excellent work. I am especially grateful to Rachel Haider for her boundless enthusiasm, patience, and great skill in bringing this all to life.
The following excerpt, from the January 13, 1881 Rice County Journal, is part of a letter from Northfield founder John North, who at that time was residing in California. This quote sums up North's feelings about working for the common good: "But the slavish part comes in hoarding, holding and guarding the surplus accumulation. I have often wondered that our millionaires never seem to understand what 'watchdogs' they have made of themselves, in standing for life guarding their pile, simply to prevent anybody from being benefitted by it. . . . How much grander the life, and how much happier and successful is the career of one who fills his whole life with useful work and generous deeds; who carries with him an atmosphere of light, and love, and sunshine that blesses all and brings sorrow to none. The young man just starting in life has the choice of these two ways. How many of them will choose the right one?"