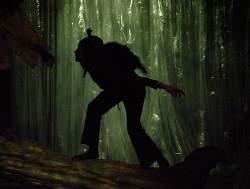 "I had a scary dream and you were in it," Cynthia says to Ron, her husband of twelve years. Is he hiding something or is she going crazy? Set in the year 2004, the play opens squarely in the middle of Iowa, but soon descends to the swamps of Florida where the slithering creatures of Cynthia's dreams become all too real. Illusions and unanswered questions, nightmarish dancing and live drumming feature in this full-length suspense drama that takes us from post 9-11 fears back to the anarchism of the mid-seventies. DOWNLOAD EXCERPT OF PLAY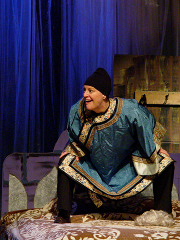 Characters: 3
Dancers: 3-8
Run-time: 2  hours
Notes about drumming: Live percussion (Djembe and conga drums, shekere, cowbell, misc. percussion) was used in the initial production. Suggestions for scoring are included in the stage directions. Although you can never match the power (and the fun!) of live musicians, recorded percussion sounds would be an acceptable alternative.
For script perusal and/or royalty agreements, contact Christine Kallman.
The Intruder was premiered in 2007 as a collaboration between the Northfield Arts Guild Theater and ARTech Charter School in Northfield, Minnesota, with support from the Southeast Minnesota Arts Council. The "thunder snow" during the first performance made it even more surreal for those audience members who were able to get there through the raging blizzard.
Photos by Patsy Dew.