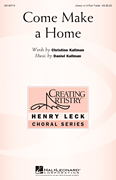 Music by Daniel Kallman
Lyrics by Christine Kallman
3-part treble choir, piano and flute; 5'00".
Hal Leonard, Publ. (Henry Leck Series), 2014
This uplifting anthem celebrates the early settlers' vision that lives on in our communities.

This piece was commissioned for the Northfield Youth Choirs (Northfield, MN) in honor of the city's sesquicentennial in 2005. It was premiered at the Governor's Ball in Northfield in December 2005, under conductor Liz Shepley. The choir was then asked to perform it at the opening session of the Minnesota State Legislature in March of 2006. Dance movements for the choir were choreographed by Shari Setchell, who also performed as a solo dancer.
Where prairie meets woodland a river runs free
Through a plentiful valley as old as the sea.
Brave women and men, heed the summons within
To shoulder your bundles and boldly begin.
Carve a canoe that will cut through the current,
A wagon to navigate uphill and down,
Carry your newly born visions with care
Like a child to a place I have found.
Pack up your fiddle and a longing in you
To make what is lovely and love what is true.
Secure these, with justice, as grounding beneath
Every barn that you build, every house, every street.
Sink timbers of fairness to anchor your mills.
For schooling and worship lift high the crossbeams.
Through winters so cold it makes strong oxen freeze,
My friends, heft the weight of your dreams.
(Refrain:)
Dance in Bridge Square [the square] to the song of the fountain,
Cast in the Cannon [river] for fat fish to fry.
We have seeds in the ground and cows out to pasture;
The storefronts are bursting with good things to buy.
From the red brick hotel to the high halls of learning,
A train whistle echoes its greeting of old.
I've planted my heart where I know there's contentment.
Where prairie meets woodland, come make a home.
By pickup or Greyhound, on foot in the night,
From west or from east in a desperate flight,
Come as a stranger and stay as a friend,
Though conflict arises or hardships descend.
Keep hope for a future united in peace
and courage to ask ourselves, "Who can we be?"
When trouble like bandits rides into our town,
We hold fast to the things we believe.
Copyright 2014, Christine Kallman,
Hal Leonard Corp.
All Rights Reserved